---
VISION AND MISSION
---

Our Vision - is to create a sustainable, emission-free, affordable, efficient and innovative technologies enabling tomorrow's smart mobility, transport and energy solutions for everyone in the world.
Our Mission as EPOWERS Research Group is to offer and deliver cutting-edge research, provide top-notch designs and developments on power electronics, powertrains and smart green energy solutions with intelligent control systems for tomorrow's mobility, transport and smart green grid applications, with our ever-growing team of top-level researchers and experts. Our academic record at world's most renowned academic journals in relevant fields, a good word from our established national and international collaboration network of companies and research institutes, the content of the ever-growing number of projects we are involved with can be reference to our level of expertise. We follow the local and global tendencies on a daily basis, bilaterally interact and collaborate with all sorts of research, technology, business, public and political entities to contribute in shaping tomorrow's transport, mobility and green energy systems. EPOWERS is also part of MOBI Core Lab within Flanders Make - Driving Innovation.
Expert Skills - Power Electronics is the base of our core expertise, where we excel in power electronics converters, inverter systems, power supplies, intelligent systems such as battery management and smart charging systems with specific focus on various electric, (plug-in) hybrid vehicles and fleets. We deliver highly advanced work on Vehicle Powertrains, where we design and optimize powertrains, multi-level and integrated eco-energy management systems (EMS) and fleet management systems. We also perform design and optimization of Electric Machines, assess their performances and apply novel control methods. Since future systems require a specific emphasis on Smart Energy Solutions we perform R&D on design architecture and sizing of green assets, smart charging with V2X functionality flexibility, energy management and control systems. Furthermore, we make use of dedicated digital methods for Digital Twin & Reliability of any related system in order to perform and develop novel reliability and failure models, digital twin approaches for fleet management and power electronics converters. Please check our research tracks for more information.
Dedicated Test Facilities - At EPOWERS, we conduct top-notch research and offer reliable standard industrial tests for companies, with ever-growing number of more than 20 dedicated and modularized test rigs and our skilled staff:
---
We offer
---
Codesign optimization for EMS, TMS and PE 

Cloud-connected EV modelling and EV testing

ECO algorithms implementation

Advanced PE converter prototype design

Smart green grid solutions (V2X)

HiL testing of PE converters and motor controls

Digital twin validation and reliability testing
---
expert tools
---
PE converter optimization tool 

EMS codesign optimization tool
PE thermal optimization tool
Reliability assessment tool
ANN based PE modeling tool
Digital twin modeling tool (PE, EV)
Virtual prototype design tool
---
Research tracks
---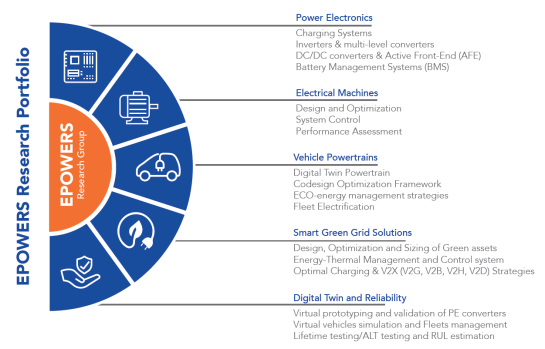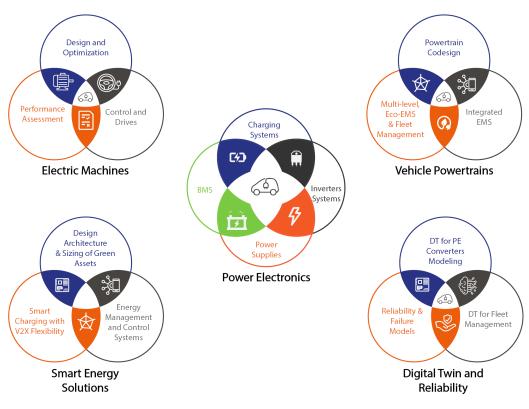 ---
Lab facilities
---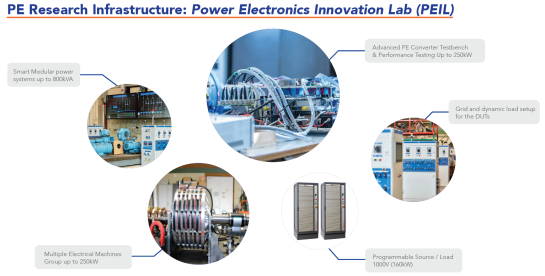 Smart modular power systems up to 800kVA
Multiple electrical machines group up to 250kW
Advanced PE converter testbench and performance testing up to 250kW
Grid and dynamic load setup for the DUTs
Programmable source/load 1000V (160kW)
Check out our infrastructure here.
---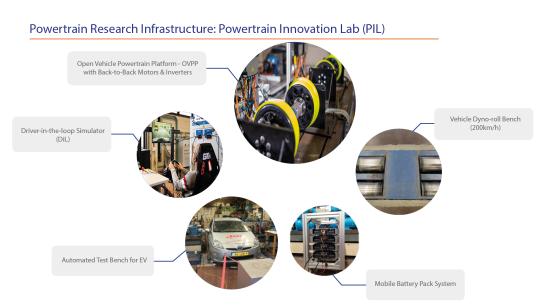 In-wheel motor test rig with back-to-back motors and inverters

Automated test bench for EV regenerative braking

Vehicle dyno-roll bench (200km/h)

Mobile battery pack system 200V, 60Ah
Check out our infrastructure here.
---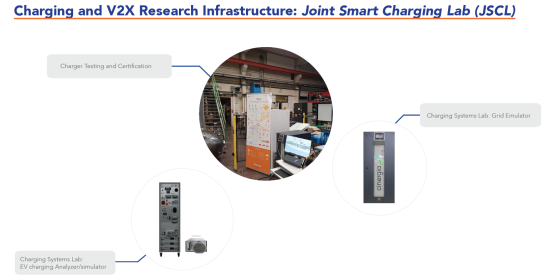 Charger testing and certification

Charging systems lab: EV charging Analyzer/simulator

Charging systems lab: Grid emulator

Power device analyzer
Check out our infrastructure here.
---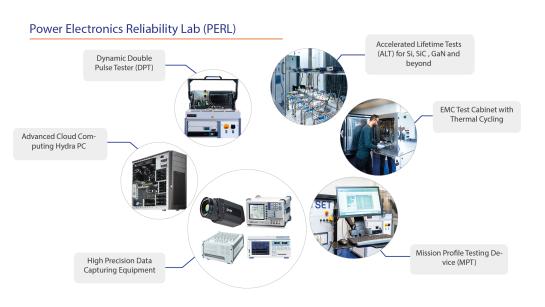 Advanced cloud computing Hydra PC (40 core CPU, 12 TB HDD)

High precision data capturing equipment *

Climate room

Automated power cycling tester for Si (IGBT, MOSFET), SiC MOSFET, GaN HEMT *

Online data monitoring unit *
* Planned infrastructure
Check out our infrastructure here.
Results & Research Portfolio
EPOWERS is a part of MOBI Core Lab @ Flanders Make